Workplace Diversity in Agriculture.
At AgCareers.com we recognize that as agriculture itself has diversified, so has its workforce. In response, we conducted the Workplace Diversity Survey to capture employer's efforts to address diversity within their organizations. While there's a lot of talk about workplace diversity, we wanted data to back up the statement that the agriculture industry generally embraces and supports diversity in the workplace.
A key takeaway was that no longer is there a typical employee in agriculture; rather we've outgrown stereotypes about the demographics of our industry. This is encouraging for job seekers who want to know they are going to work in an industry that welcomes diversity in its most traditional sense, as well as a broader scope that accounts for diversity of thought and experiences.
Organizational Demographics
Eighty-two organizations across a variety of agriculture sectors in 28 states participated in the survey. The survey asked respondents about the diverse talent represented within their organizations and the results (illustrated in Figure 1) are encouraging. In fact, 83% of respondents included females. This was followed by 67% of respondents reporting that more than one race is represented by their employees. Twenty-five percent of organizations report their employees are representative of all seven demographics listed.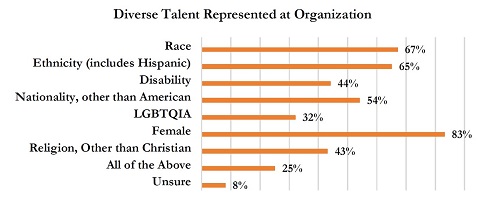 Recruitment and Retentions Efforts
Over half of respondents indicated that their recruiting strategies are aimed at increasing the diversity represented in their organization. The number one reason organizations said they recruit diverse candidates is to build an environment of diverse perspectives and experiences.
Some organizations did report having strategies aimed specifically at retaining a diverse workforce. For the organizations that do have specific retention strategies over 90% utilize formalized mentoring. This was followed by hosting cultural events (54%) and less than one-third form affinity groups. Encouragingly, 65% of organizations reported that they do not have trouble retaining diverse employees.
What Can We Do with this Information?
As with most challenges involving human capital, there is room for improvement as the agriculture industry strives to foster diverse workplaces. Consideration should be given as to how more diverse talent can be prepared to excel within higher level roles at their organization. Additionally, human resource professionals and organizational leaders can utilize the report to assess how they address workplace diversity challenges and opportunities.
If an individual has hesitations about pursuing a career in agriculture because of their diverse background they should know that the survey data lends to the consensus that typically, employers do not focus on the demographics of an individual, rather they are hiring the best candidate for the job. This survey report should encourage diverse candidates to consider employment opportunities within agriculture.
Fuente; https://www.agcareers.com/newsletters/Workplace_Diversity_in_Agriculture.htm